Ceremony
Our ceremony will be held at Graham Chapel located in the center of the Washington University campus at 2:30pm on Saturday, the 8th of October 2011.
Graham Chapel
Washington University - Danforth Campus
One Brookings Drive
Saint Louis, MO 63130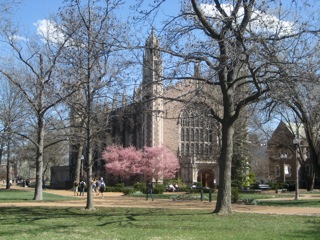 Parking
Please refer to this campus parking map - Graham Chapel is located in (G-5)
Weekend Parking (6 PM Friday to 7 AM Monday)
Visitors who will be parking on campus during weekends are permitted to park in yellow zones without displaying a parking permit. The closest lots to Graham Chapel include #40 (G-6) or #35 (I-5) on the map.
Hourly Garage Parking
Visitor parking is conveniently located in the Danforth University Center Garage. The charge is $1.00 per hour, with a maximum charge of $5.00 for the day payable by cash or card. This is #26 (F-5) on the map and the address for the garage is 6475 Forsyth Blvd., St. Louis, MO 63105. The entrance to the parking garage is located at Forsyth Blvd. & Wallace Drive.
Metro
Metrolink, St. Louis's light rail commuter train system, has two stops on the Danforth Campus. The Big Bend station is located at the north-west corner of the campus and is closest to the Knight Center and Graham Chapel. This is a little over a quarter mile walk to Graham Chapel.